What is ADMAFINE?
Unique technical development
creates a new miracle
ADMAFINE consists of microscopic spherical oxide particles produced by oxidizing metal powders using an original technique known as the VMC method. The moisture content is very low as the surface is non-porous, and dispersibility is excellent as there is no strong adhesion among the powders.
Blending control is also easy due to the narrow particle size distribution.
The product line of ADMAFINE includes our major products silica and alumina, and their secondary processing products. As for the secondary processing product is below.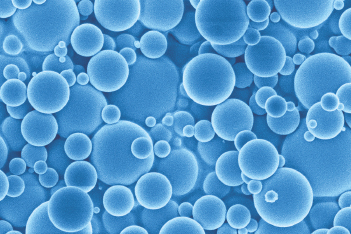 ・products with the surface reformed by coating the surface of the spherical particles with various compounds
・products uniformly and highly dispersed in an organic solvent or resin
・products with the particle size adjusted distribution by removing coarse particles and blending powders ... and so on
○

Basic characteristics of ADMAFINE
1.Spherical particles

|

Spherical particles with a diameter of 0.2 to 10μm

2.High purity

|

Achieved by high-purity raw materials and special techniques

3.Low surface area ratio

|

Non-porous surface with little moisture content

4.Narrow particle size distribution

|

Easy blending control due to narrow particle size distribution

5.High dispersibility

|

Excellent dispersibility achieved because there is no strong adhesion among powders
Open up new world of advanced materials in new era
The applications of spherical particles are infinite.
The highly specific functionality of spherical particles is used in various fields, including computers, electrical and electronic products, automobiles, foods, and medical equipment.

Product examples include, adhesive that optimizes heat conductivity and heat resistance, liquid resin featuring high fluidity and rigidity, and functional paints where heat and weather resistance is required. Each of the ADMAFINE particles maximizes the function of these products and improves the characteristics of the product.

ADMAFINE is blended in leading edge materials in various fields, for example, sealant for super-thin semiconductors (e.g. MPU, memory), sealer and rib of flat display units (e.g. LCD, PDP), engineering plastic mainly for automobile parts, cosmetics and soaps (e.g. foundation) , wrapping film for foods and medical goods, and dental materials.
○

Basic fanctions of ADMAFINE